Guest Information
Guest Information
Welcome to the Metro Inn Ryde!
1. Welcome
8. Your Room
9. Guest Services & Facilities
11. Feedback

I would like to take this opportunity to welcome you to the Metro Inn Ryde, I trust your stay will be comfortable and enjoyable.

Situated in a convenient location Metro Inn Ryde is just 14kms to the Sydney CBD and only 7kms to Sydney Olympic Park Homebush.
A Hot Buffet Breakfast is served Monday to Friday 7am to 9am & Saturday/Sunday 7.30am to 9.30am.
Here at the Metro Inn Ryde we aim to provide our guests with the highest level of friendly and efficient customer service. If you should require any assistance throughout your stay with us please do not hesitate to contact our front desk. Front Desk hours are 7am to 8pm daily. (Office hours may vary, your understanding in this matter is appreciated).

Once again on behalf of Management and staff we would like to welcome you and thank you for choosing to stay with Metro Inns.

Robert Lee
Managing Director

---
Every guest is entitled to enjoy their stay.

If you are being disturbed by any guest, if there is any noise either on the balconies, in the hallways or in other rooms that interferes with your stay, please do not hesitate to call the night porter:

Call 333 from the phone in your room.

The manager is within his rights to call the police and have any and all disruptive persons removed immediately from the property without a warning. No refund will be offered to any persons removed from the property and charges may apply.

Please show respect for the guests around you and be considerate of your noise levels and activities.

Management.
---
Smoking
Smoking in rooms is strictly prohibited by law with fines of up to $300. Please be considerate of other guests and use the designated smoking area at the front or rear of the premises. Smoking is permitted on the balconies (please keep the balcony door closed to avoid smoke drifting into the room).

Pets
Pet-friendly rooms are not available at Metro Inn Ryde. We reserve our right to take action if this policy is violated.

Cash Policy
We accept all major credit cards including Mastercard, Visa and Amex.
If paying by cash, it is our policy that you leave a bond to cover any extras (food, beverage, telephone etc).

Lost Property
Please check your room before leaving. If lost property is found, we will hold the items for you for three months from the date of check-out. If we do not receive handling instructions within this period, we reserve our right to dispose these items. Please note that we are unable to keep perishable items.

Reservations
Metro Inn Ryde is able to arrange future reservations on your behalf. You are welcome to phone Reservations on +61 2 9807 4022 to make the booking or visit www.rydeinn.com.au to book accommodation.
---
Our Restaurant & Bar offers excellent meals and snacks, a licensed bar and a welcoming smile. In light of current COVID situation, the restaurant & bar is unavailable for evening meals until further notice. We are unable to sell alcohol during this time.
A Hot Buffet Breakfast is served Monday to Friday 7am to 9am & Saturday/Sunday 7.30am to 9.30am.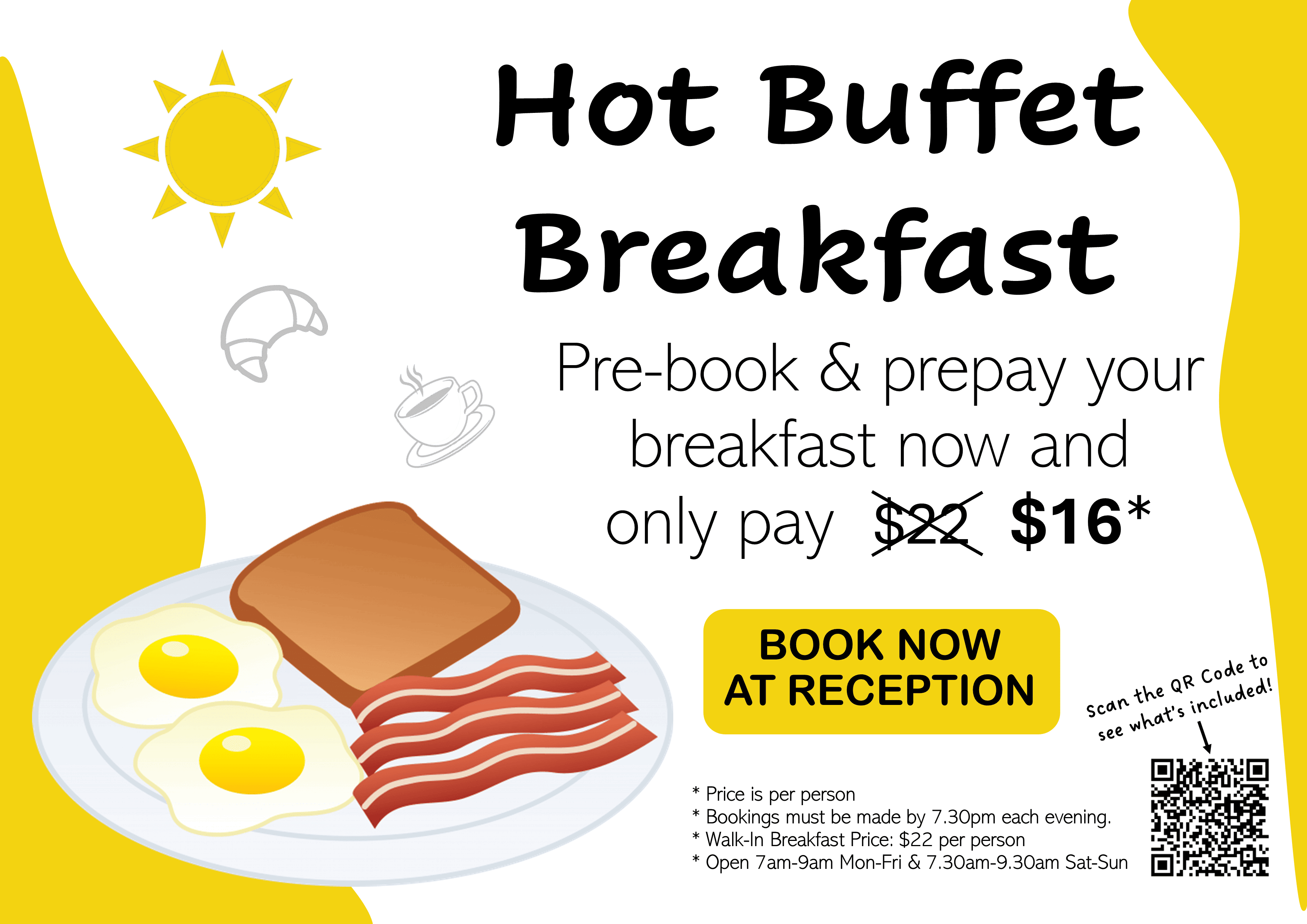 ---
(10-15 minute walk - map)
Grilled Out
(Opposite the Hotel - map)
Constitution Cafe Take Away
(Near Meadowbank Station - map)
(10-15 minute walk - map)
(10-15 minute walk - map)
(15 minute walk - map)
(15 minute walk - map)
Local Delivery Options:
---
Please click below for directions:
Chambers Cellars (Liquor Store)
---
Buses to the CBD (Central Station)
Buses to Meadowbank Ferry Wharf
Bus & Light Rail to Circular Quay
---
Please click here to make a booking or contact reception by dialing 9 on your telephone.
*Please note: this is a third party operator not associated with the Hotel.
---
TELEVISION
To access Free To Air TV:
Press the 'SOURCE' button on the remote & select DTV
To access Foxtel TV (6 Channels):
Press the 'SOURCE' button on the remote & select ATV
AIR-CONDITIONING
Reverse cycle air-conditioning is individually controlled from the wall console in each room.
ALARM CLOCKS
Alarm clocks are placed by your bedside. Should you require any assistance with setting your alarm, please contact Reception.
HAIRDRYERS
For your convenience a hairdryer is located in your bathroom.
PILLOWS & BLAKETS
Extra Pillows & Blankets can be found in the wardrobe.
IRON & IRONING BOARD
Iron and ironing board are located in the cupboard in all rooms.
TEA & COFFEE MAKING FACILITIES
All rooms are provided with complimentary tea and coffee making facilities. Complimentary milk is replenished daily in your refrigerator. For additional supplies, please contact Reception.
PLATES & CUTLERY
Cutlery, Plates & Wine Glasses are available from reception when required.
CHECK-OUT TIME
Our check-out time is 10.00am unless prior arrangements have been made. We are happy to organize an extension for you, subject to availability. We do, however, reserve the right to charge guests additional fees for departures later than 11.30am. Please contact Reception should you wish to delay your departure
AFTER-HOURS ACCESS
Reception closes at 8pm each evening. Outside of reception hours, please enter & exit via the rear door which is located at the end of the building.
---
WAKE-UP CALLS
We will be delighted to provide a wake-up call at the time of your choice. Please contact Reception.
INTERNET
Free wireless is now available please contact reception during office hours for the code.
An Internet café is available in the foyer during office hours and is also free.
TELEPHONES
Your room telephone is direct dial to local, interstate and international numbers, (this means you do not need to be connected though our switch). When making an outside call, simply dial 0 for your dial tone and then the number which you wish to contact.
Telephone charges:
Local: 0.75c per call (flat rate)
Interstate and mobile: 0.75c per pulse (60 sec)
International: 0.75c per semi pulse (30 sec)
DIRECT ROOM DIALLING
Should you have other guests staying with us and you would like to contact their room directly, simply pick up your handset and dial their room number our system will automatically transfer your call. (There is no charge for this service)
POOL AND BBQ
The pool and BBQ area can be utilized while our reception is open. This area can be accessed via the pathway to the side of reception follow it to the front of the building. The gate is fixed with a child proof latch which is located on the left side of the gate, to release the latch pull the knob upwards and then pull the gate towards you. See reception for BBQ utensils.
LAUNDRY
Our guest laundry is located opposite the rear door $3.00 (3 x $1 coins) for the washing machine $2.00 for the dryer (1 x $2 coin).
PRINTING & COPYING
Printing & photocopying service is available at our reception at a cost of $0.20 per page.
---
EMERGENCY

In the event of an emergency situation, please contact Reception stating your location and the nature of the emergency.
After hours you can call the night-manager by dialling 333 from the phone in your room.
FIRE

Metro Inn Ryde is fully equipped with an advanced fire alarm and smoke detection system. In the event of a fire alarm, a public address system will be activated to keep you informed of the situation.
Please familiarise yourself with the safety information listed below and of the floor plan on the back of your guest room door.
Should you become aware of a fire or smell smoke, please call Reception and give the location, and we will investigate immediately.
In the unlikely event that there is an emergency in the building:

Remain calm.

Inform Reception by pressing 9 on your telephone. If you are advised to evacuate the building, feel the door and doorknob with the back of your hand before opening the door.

If heat is evident, stuff wet towels or anything else wet under the door. Remain close to the floor.

All guest room doors are fire proof in accordance with Australian Safety standards. If smoke is evident, open windows/balcony door to vent room. Hang a bedsheet out of the window to signal the rescue team. Do not attempt to climb down. Fill the sink with water – it may be needed for your protection.

If heat is not evident, open the door slowly, take your key and proceed to the nearest fire exit.

If you encounter smoke, crawl on your hands and knees. Once inside the fire stairs, keep walking down and do not stop until you exit the building on street level.

If you have a physical condition that might impair your ability to either detect an alarm or evacuate via the stairway please notify Reception now.
---

Leave us a review on Google: